A-Level Press Release 2019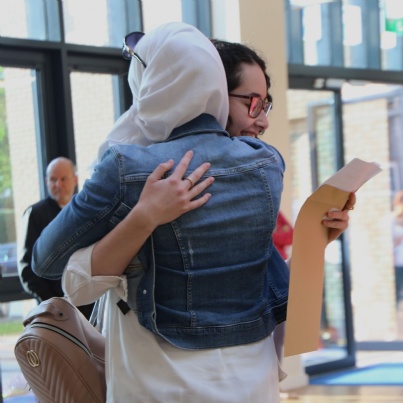 Congratulations to Year 13 students from Sutton Coldfield Grammar School for Girls on their fantastic A-Level results.
Sixth form students at Sutton Girls showed they were up to the challenges of the demanding linear examinations, maintaining a 100% A-level pass rate. The Year 13s achieved an excellent set of results with 77% of all entries graded A*-B and 46% awarded the top grades of A*/A.
Amongst the highest A-level achievers were Cecilia, Aisha and Judy who each gained 3 A* grades. Cecilia will take up her place to study Neuroscience at UCL, Aisha and Judy will both be studying Medicine at the University of Birmingham. Nadia and Amy both achieved 2A*s and 2As, Nadia is going to read Classics and English at Worcester College, Oxford and Amy will be studying Computer Science at the University of Leeds.
Overall 38 students achieved AAA or higher and have secured places at universities from Exeter to St. Andrews to study a range of courses including Architecture, Civil Engineering, Fashion Buying and Marketing, Law, Medicine, Psychology, Physics and Theology.
We are celebrating the variety of destinations achieved by our students, with degree subjects such as Aerospace Engineering, Graphic Design, Illustration, Modern Languages, Optometry and Pharmacy. Students have also secured competitive apprenticeships with Arcadis, JLR and RSM International. All students at Sutton Girls are encouraged to be aspirational, supported to follow their interests and to achieve their goals.
This year group has been the first to experience the full changes in the examination system. The return to linear A-levels has brought many challenges to these students and their teachers; the lack of resources for the new specifications, uncertainty about the format of exam questions and grade boundaries, leaked exam papers… However, with a great deal of effort, resilience and optimism success has been achieved. The increased difficulty of sitting A-levels has required a whole school approach and I am proud of all of the hard work done by students, teachers, support staff, invigilators and governors. I would also like to thank family members for their encouragement and understanding, not only during the revision and examination period, but throughout the entire 13 years of schooling.
I would also like to recognise all the other achievements that this year group should be congratulated on. Students have successfully participated in a range of extra-curricular activities: Duke of Edinburgh Award, National Citizen Service, school events such as music concerts and house competitions. They have also supported other students both within their own year group and younger years. Their commitment to the school community in addition to their studies has made them great role models. We wish them all the best for a happy and successful future and look forward to them keeping in touch with us via Future First, our alumni network.
Dr Barbara Minards
Headteacher