GCSE Press Release 2019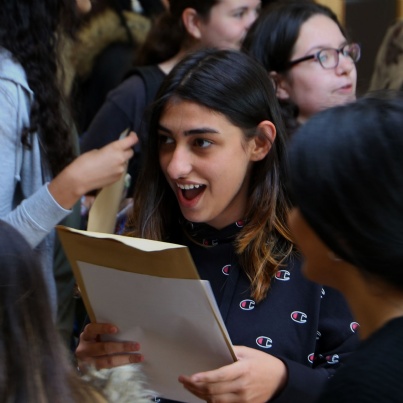 Congratulations to Year 11 students from Sutton Coldfield Grammar School for Girls on their fantastic GCSE results: 51% of all results were the top grades of 8 and 9.
100% of students achieved at least five grades 9-4 including English and Maths. 74% of the grades were 7-9, which are the equivalent of previous grades A and A*.
14 students achieved grade 8/9 across all their subjects: Neha Abeywickrama, Mumtaz Ahmed, Stuti Aiyer, Ketevani Asatiani-Kalandaze, Pallavi Bhattacharya, Holly Horn, Mimia Islam, Ru Jewkes, Aalia Raza, Jodie Rushton, Megan Samra, Olivia Sheargold, Mya Surray and Ella Ward.
Headteacher Dr Minards, said "We are proud that all of our students' hard work and determination has been rewarded with these excellent results. This is our first year group of 180 students and the first cohort to tackle the new GCSEs in all of their subjects. We are delighted that they have met the challenges of their academic studies along with all of their contributions to school life. The Year 11 class of 2019 have played significant parts in: High School Musical 2, Bronze DofE, dance and music concerts, numerous house competitions and charity events. We wish them all the very best for their next steps. We look forward to all of our Sixth Formers starting in September as we welcome a combination of returning and new students to Sutton Coldfield Grammar School for Girls."
Thank you to all the students' families, members of staff and Governing Board for their ongoing support.