The Buddy Bag Foundation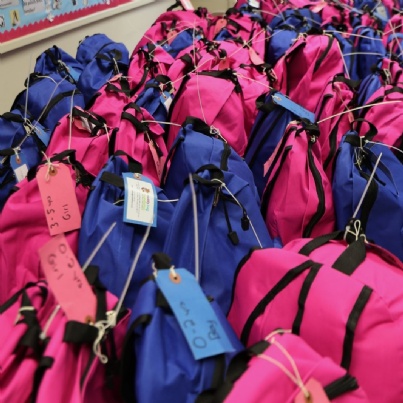 Students and staff come together to support the childrens' charity
Each year at Sutton Girls, our students arrange a variety of charity events to raise money for several organisations. This year our Senior Student Ambassador for Charity, Pippa, chose to support the Buddy Bag Foundation as part of a year-long theme of supporting children's charities after being inspired by her grandfather's upbringing. The foundation provides care packages and support for children who are taken into emergency accommodation.
As a school we provided a total of 90 bags to the charity, which the foundation will distribute to local refuges over the Christmas period, a difficult time for some families, so access to necessities and home comforts are crucial. The bags include items such as toothbrushes and toothpaste, a teddy bear, a reading book, underwear, personal hygiene products along with school resources.
Each form group donated items for two bags, one for a younger child and one for a teenager; the charity provides bags for children from 0-16 years. Sixth Form students and staff also provided items for a further 30 rucksacks between them. We also held a non-uniform day on the last day of the October half term in support of children's charities including the Buddy Bag Foundation.
Assistant Headteacher and head of Charity, Mrs Lucas, said:
"This is an amazing achievement. The VI Form team who co-ordinated it did a brilliant job and the whole school enjoyed being involved in this charity project. Knowing that the items they have bought to donate and packed in the rucksacks will make such a difference to the lives of the children who receive them has really shown the students the impact that an act of kindness can have on others."