Magistrates Mock Trial Competition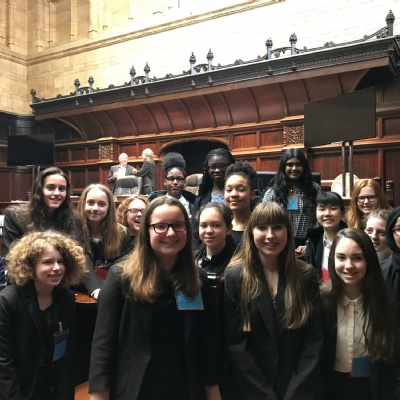 By Lydia - Year 9
(Winner of the Court Reporter Competition 2018)
On Saturday 17th March 2018, 17 students from Year 9 took part in the local heat of the Magistrates Mock Trial Competition. This was held at the Victoria Law Courts in Birmingham. We had previously visited the courts on an initial trip, but this time we were facing tough competition against nine other local schools.
The competition involved us taking on the roles of lawyers, witnesses, magistrates and court staff and preparing the prosecution and defence for a specially-written case. The case that we prepared was based around someone being in possession of a bladed article in a public place. This meant that we had to think about each of our roles and how to incorporate strong arguments either to convict or dismiss the case against the defendant.
Our team was split into two groups, the prosecution and the defence. On the day of the local heat, each of these groups went against the opposition from another school in a live format at the Victoria Law Courts with our performances judged by magistrates and other legal professionals. We had prepared every week for five months.
Many of us received compliments from the magistrates for the quality of our performance and hard work, but unfortunately we were narrowly beaten by two other local schools. Our Court Reporter, however, won first prize!
Although we did not get through to the regional final, the experience we gained from our trip to the Victoria Law Courts and during the local heat competition was invaluable. Everyone enjoyed themselves enormously and it gave us a chance to talk to those we were up against and make new friends.
Here are just a few of the comments made by some of the participants:
Court Reporter: "I was very happy to win the individual prize. Our team has become very close over these past few months and I'm happy I was able to contribute."
Lawyer: "I thoroughly enjoyed doing mock trials and it was a great experience for me."
Witness: "It was a rare opportunity and I really enjoyed it. Due to the teachers' hard work and dedication I was given the confidence to enjoy every minute of the trial."
Magistrate: "The trial was really exciting, and we loved the weekly sessions with the teachers and everyone else."