Cygnus Charity Event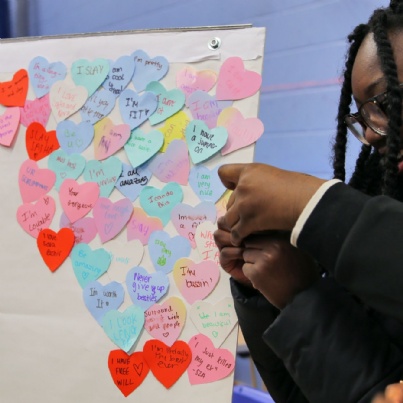 This year's Cygnus charity day saw the theme of Valentines, where kindness and appreciation were actioned through hosting stalls at lunch time...
Students from across the school took part in celebrating Valentines through: a Valentines-themed non-uniform; a 'Secret Cupid' message of kindness service; building a 'Wall of Affirmations'; making friendship bracelets and origami, and selling sweet treats such as candy floss, snow cones and cake.
Cygnus were raising funds and awareness for two charities: UK Sepsis Trust and The British Red Cross. To help raise funds, UK Sepsis Trust merchandise items, such as lanyards and badges, were sold as well as every student receiving a symptom card to keep at home.
The hard work and dedication Cygnus house students and house captains put in was evident - the stalls were so successful that all the cake had sold out within 10 minutes! It was wholesome to see the school community come together for both charities. As a result, £1,541.06 was raised for UK Sepsis Trust and an additional £614.62 The British Red Cross. A fantastic outcome from celebrating Valentines!
Miss H Patel,
Head of Cynus House