Masked Reader 2023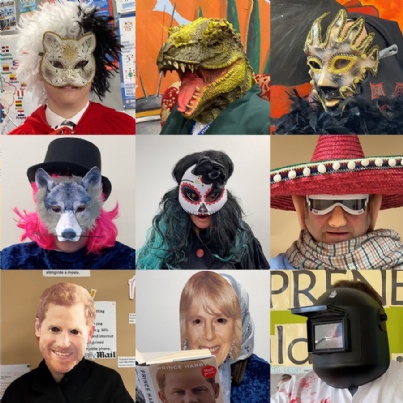 Masked Reader returns to Sutton Girls for World Book Day 2023!
Back due to popular demand and in honour of World Book Day, some of our staff members once again donned a disguise for our Masked Reader event, reading a selection of poems and extracts from popular books.
The students had the task of guessing all 15 readers behind the masks to earn character points and certificates. Identities were kept top secret, so even the staff joined in the fun. It wasn't as easy as you might think! This year, our fabulous readers (pictured below, left to right, top to bottom) were...
Mrs Kauser The Gruffalo by Julia Donaldson
Mr Marriner Where the Crawdad Sings by Delia Owens
Mr Collett A Short History of Nearly Everything by Bill Bryson
Mrs Chiverton The Three Little Pigs – Roald Dahl's Revolting Rhymes
Mrs A Hart A Short History of Nearly Everything by Bill Bryson
Mrs McIntosh The Penelopiad by Margaret Atwood
Mrs Bubb The Curious Incident of the Dog in the Night Time by Mark Haddon
Mrs Harradence Chameleon- A Poem by Jaspreet Kaur
Mr Hughes The Lord of the Rings by J.R.R Tolkien
Mrs Zaman Harry Potter and The Prisoner of Azkaban by J.k Rowling
Miss Patel Good Vibes, Good Life by Vex King
Mrs Appleton Spare by Prince Harry
Mrs Tunstall Spare by Prince Harry
Mr Maguire All My Great Excuses - A poem by Ken Nesbitt
Mrs Stamoulis Thursday Murder Club by Richard Osman
We hope that our students enjoyed this challenge as a taster for our upcoming Literacy festival in June. An exciting week that celebrates the wonderful world of literature. More details coming soon!