Aquila Charity Event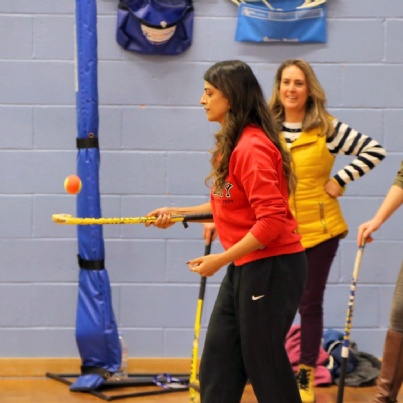 The fundraising efforts of Aquila draws in crowds of students for the final House charity event of the Spring term...
On Friday 17th March, Aquila House held their charity fundraiser in aid of raising money for Comic Relief.
During our lunchtime event there was the usual cake sale, a Sutton Girls tradition for any charity event, as well as various other student-led stalls and games.
One surprise was an immense beauty hamper raffle, organised by Miss Sidebotham, that amassed a total of £316.85 on its own! We put some of our teaching staff to the test with a Sutton Girls edition of Taskmaster.
Some of the rounds saw Mrs Alderson, Mrs Cole, Mr and Mrs Pockson, Miss Patel and Miss Perry hoola-hooping for longest and throwing tennis balls into a basket blindfolded, but after a few very successful games, Miss Patel was crowed the overall winner!
Overall, we raised an amazing £1,857.73! Well done and thank you to everyone that participated in the games, bought and ate cake, supported our Staff Taskmaster and donated to a wonderful cause.
Mr J. Gilbert
Head of Aquila