Charity collections for "People in Motion" come to a close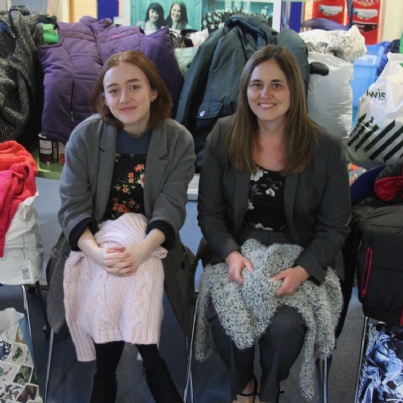 Overwhelming response as the final collection day for Midlands-based charity passes.
Students and staff here at Sutton Coldfield Grammar School for Girls have collected thousands of pieces of clothing, food and even tents for Midlands-based charity People In Motion, which supports refugees and displaced families in Syria, France and Greece.
Year 13 pupil Maryam Mohanna came up with the idea after her family supported the charity.
"My family first got involved with People in Motion back in 2013, at the height of the refugee crisis, so I've worked with them before," Maryam said.
"I thought that if the school would get behind it we could make a real difference. We've had a whole-school assembly, where the chair of the charity, Chris Russell came in and explained the refugee crisis, and problems that people are facing."
The result has been dozens of bags, filled with thousands of items of clothing, which will be distributed by the charity to help make the lives of refugees more comfortable.
"We've had an incredible reaction from everyone at the school – all the kids and their families too," said Maryam, who is the school's Senior Student Ambassador for Charity.
"The Year Seven pupils even came to us and said they would like to hold a bake sale, which raised some money for People in Motion."
Mrs Lucas explained that the appeal gave pupils a tangible idea of their contribution to the cause.
"We feel that, with charity work, it's meaningful if the students can see what impact it's having," she said.
"So, although it's nice to raise money for something, the cash often just goes into a larger pot, whereas with appeals like this we really can see that there will be somebody in Calais, or Greece, who is freezing cold and will wear a jumper that a pupil has donated.
"It's good for the students to see the real, tangible difference they can make.
"We work with the student ambassadors to give them the confidence to take on the project themselves, to give them the leadership skills to make it happen.
"It's about doing charity work but also developing our students as people, to enable them to take on projects in the future and make a difference in the world."
Elaine Fraser, the co-founder of People In Motion, said: "It's wonderful that the school are getting involved and great to see educators get involved like this.
"These clothes are so desperately needed. We are sending clothes to Calais, for instance, where there are a lot of teenage refugees - so items donated by the pupils themselves are often in great demand."