Well-being Week 2019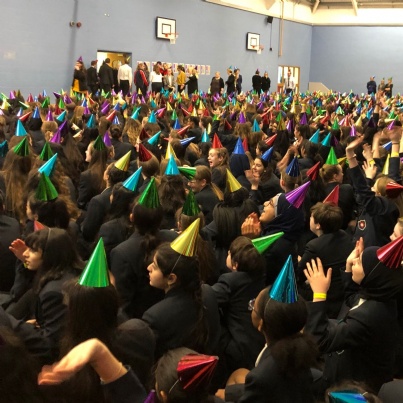 Exotic animals, tie dye t-shirts, happy faces and shiny hats!
Well-being Week is a fundamental part of our academic calendar. 2019 has been even more special, as we celebrated the school's 90th year as well as five days of filled with activities to get students active, engaged, mindful and trying something new while above all, having fun.
Kicking us off on Day 1 was SCGSG regular, Steve from the DWAEC and a selection of his exotic creatures. Each session was an excellent mix of laughter, information and joy as some lucky students got up close to some of the animals, including an albino reticulated Python, a Cuckoburra and Prickles the four-toed Hedgehog.
Day 2 of Well-being Week 2019 and our students were encouraged to "try something new" from a range of various different activities including smoothie making with Miss Hewitt, knitting, origami, henna tattoos, a tie dye workshop run by a group of our Sixth Formers and the chance to have a boogie with Just Dance in the Drama Studio.
Wednesday was the big day. 90 years. Before Christmas, we invited our students to design a birthday card to celebrate our 90th year with the winning card being printed over a thousand times and handed out across the school. Every form group wrote a positive message inside their card and sealed it in an envelope. These were then collected and redistributed to another form group in the school, meaning that each student would receive a positive message. A number of Sixth Form students had the mammoth task of organising the cards so that the same students didn't receive the card they wrote!
Later, our friend and regular collaborator, Kaya Drums, arranged a series of drumming workshops for Year 11 to take part in, as well as a drop-in session at lunchtime for the rest of the school.
The main event of Day 3 though was our World Record attempt for the largest gathering of people wearing conical party hats. In amongst a sea of happy faces and shiny hats, we can confirm that we managed to get 1,161 conical party hat-wearers in the Sports Hall!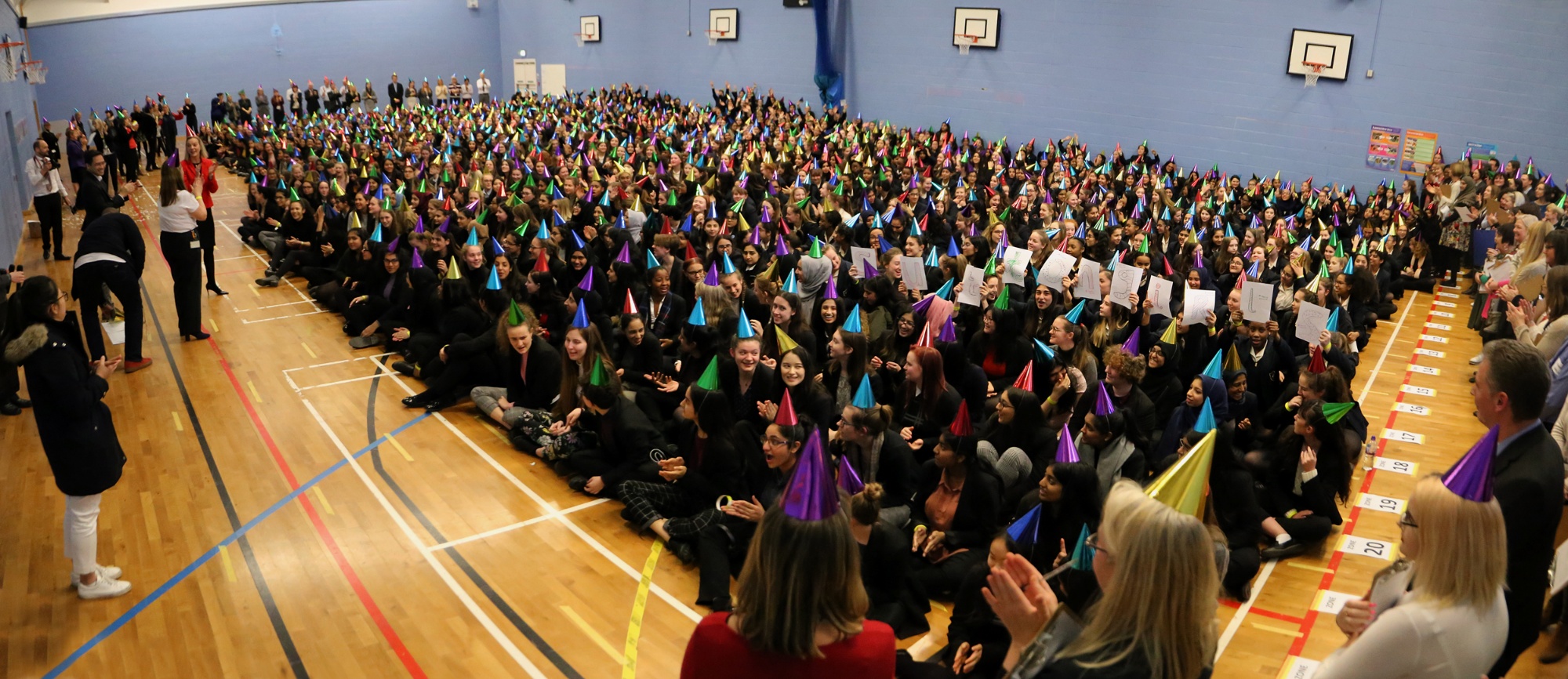 While the start of the week was a massive build up, Thursday and Friday had been far more settled and the focus moved to relaxation and mental well-being.
Thursday lunchtime was filled with the sound of The Greatest Showman and saw the return of the immensely popular Photo Booth which was organised and run by a group of Sixth Form students. Lyndsay Drury joined our Year 7 students on both Thursday and Friday morning for some incredibly enlightening workshops on Resilience and how positive thinking alone is not enough to combat negativity.
Bad news for some of our members of staff though on Friday as they took part in a charity Bleep-test as part of a Delphinus House fund raising event. Coming out on top at level 9 was a seemingly unfazed Dr. May, closely followed by Mr. Charles and Miss. Hewitt.