Year 9 Work-related Skills Day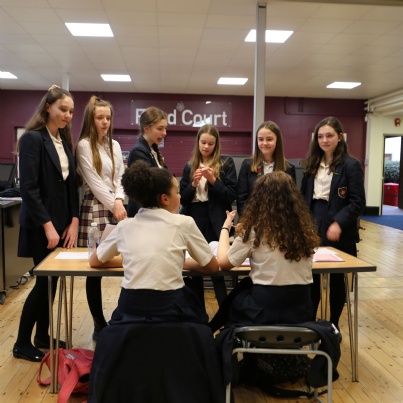 A fascinating day revolving around work-related skills and interview skills for Year 9
Tuesday 5th February was our Year 9 Work-related Skills Day and we were delighted to start the day by being joined by individuals from such a wide range of different career paths.
A familiar face around the SCGSG grounds, ex-Biology teacher Jon Dale visited to talk about his transition from teacher to independent brewer and how an understanding of the basics of GCSE Biology and Chemistry were all our students need (as well as an official qualification from The Institute of Brewing & Distilling) to start a career in the brewing industry.
The absolutely brilliant Ros answering questions about her career as an embalmer. There was an impressive level of professionalism from Year 9, asking well thought-out questions such as "do you think this job has changed your outlook on life?" and "what kind of satisfaction do you get from this job?"
Business Information Systems lecturer Chris started his short talk by summarising the plethora of different STEM opportunities and careers in computing, from Cyber Security to Virtual Reality testing which are offered by Birmingham City University.
We were also joined by three representatives from Jaguar Land Rover in the form of marketing apprentice, Phoebe, as well as Luke Shingler and Katherine Fenton currently in their second year of an Engineering Degree apprenticeship and focused on the progression and assistance that the company give to the successful applicants, including a guaranteed 3-year contract with them after completing the apprenticeship.
Emma and ex-student Victoria discussing their different career milestones working in property surveying. Emma went through a degree in English Literature followed by a Masters degree not really knowing what it was that she wanted to do, ultimately falling into property as one of the few women in the profession at the time, quickly working her way up to a managerial role. Victoria was on her way to studying a degree in Geography, but after doing a work experience placement with Cushman and Wakefield she decided to avoid the debt that's usually associated with university and continue with something she had come to enjoy. One of the most fundamental things they talked about was that while their previous qualifications may seem like a world-away from their current work, there were a lot of transferable knowledge and skills that could be carried over.
As well talks by our guests, the afternoon consisted of first impressions and interview technique practice, followed by "speed dating" in the canteen where students got a brief period to talk to current Year 10s and 11s about their experiences with GCSE options. Students demonstrated an impressively high level of professionalism throughout the day, especially during the morning of "Meet the Professional" sessions, and we would like to thank everyone who joined us for a really enriching day.