Year 8 Skills Day - Ocean Plastics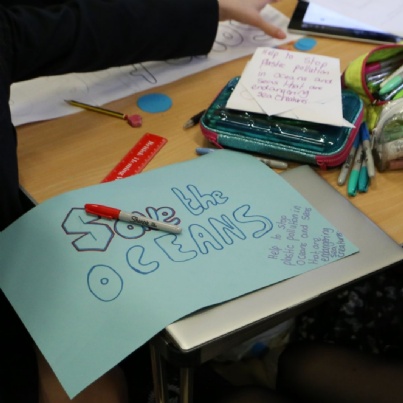 Plastic in our oceans have become a massive issue, which our Year 8 students have been exploring...
On Thursday 28th February, Year 8 students at Sutton Girls participated in a Geography Skills Day to highlight the challenge of plastic in our oceans.
About 8 million metric tons of plastic are thrown into the ocean annually. Of those, 236,000 tons are microplastics – tiny pieces of broken-down plastic smaller than your little fingernail.
Plastics and microplastics are causing many problems to marine wildlife; many animals are mistaking plastic for food. Once they have swallowed the plastics- which contain many chemicals that are harmful to the animals. The Geography Department decided to base a Skills Day around this topic in order to raise awareness of this problem at the same time as developing some important transferrable skills.
The brief was to make a machine that could be used to help get plastic out from the oceans but also to come up with a potential campaign that would raise awareness of this issue. The day consisted of three main parts: researching the issue, planning & creating a 'machine' alongside producing the advertising campaign, and then finally showcasing the work in group presentations.
Year 8 showed a great deal of concern about the issue and were so passionate during the presentation stage of their task, while the 'machines' themselves really reflected the time spent during the morning researching current methods of cleaning our oceans and how small gestures at home can make a huge difference.