School Production of High School Musical 2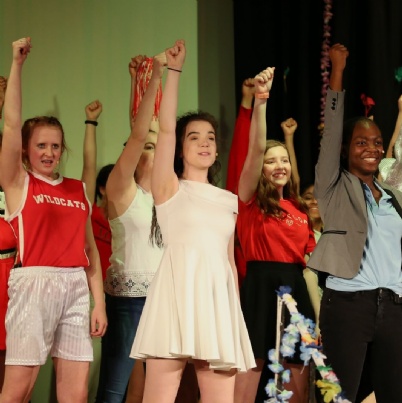 "All For One!" as Sutton Girls entertain audiences with hit teen classic.
While we are still in the midst of March and enjoying the strangely delightful spring weather, our students here at Sutton Coldfield Grammar School for Girls have been getting ahead of the seasons and straight into the summer-break spirit with an electric production of the teen favourite High School Musical 2.
"Being a part of High School Musical 2 has been wonderful – there's such an amazing sense of community between all the cast members and it's been such a fun, exciting experience for everyone involved" says Year 9 student Grace, who plays the downtrodden Mr Fulton, General Manager of the Lava Spring Country Club where the majority of the show is set.
The entire production has been designed as a multifaceted, whole-school experience bringing together students to occupy roles, such as choreographers Abi Gass, Molly Kirk, Beth Winterbottom, Camille De Waele and Holly Eales putting together dance routines with Miss Rutherford, Miss Pettit programming the sound desk, and a band formed of a mixture of staff, students and even school governor Mr Millman on Bass. The show also incorporated other students by creating roles that were not in the original film, giving them the chance to showcase their talents alongside the principal actors.
Year 9 student Keira, who played Jack Scott in the show, said of her experience; "For me, the best thing about the show is the atmosphere. You get to the first night and it's like 'Woah! We're awesome!' and all of a sudden, six months of practice has turned into something amazing"
The Drama Department would like to thank everyone that has been involved in the production of this show, including Mrs Vincent and Mrs Pearce who have been backstage and cast support for each show, lighting set-up and support by Chris Walker and Musical Directors Mr Collet and Miss Bowen.