Eva Clarke talks to Cloud 9 students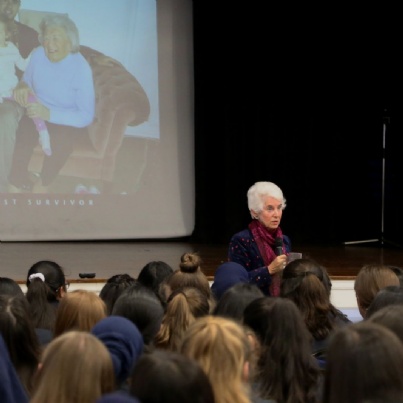 Students learn about the struggles of Eva's mother as a Holocaust survivor and how her life was shaped by these experiences.
Eva's story is a unique and harrowing journey from her birth on arrival at the Mauthausen concentration camp and subsequent liberation of the camp by the Americans in April 1945, emigrating to the UK and settling in Cardiff. On Wednesday 8th May, we welcomed Eva Clarke back to SCGSG to share her knowledge and experiences with our Cloud 9 Students.
Eva and her mother were the only survivors of their family, 15 members of whom were killed in Auschwitz-Birkenau: three of Eva's grandparents, her father, uncles, aunts and her 7-year-old cousin, Peter.
When Hitler came to power in 1933, Eva's father Bernd Nathan left Hamburg for Prague where he eventually met her mother, Anka Kauderová. The couple married on 15th May 1940. In December 1941 they were both sent to the Terezín (Theresienstadt) Ghetto where they were to remain for three years, which was very unusual considering they were young, strong and able to work.
Even though the sexes being segregated at this time, Anka became pregnant with a son, Dan. When the Nazis discovered this, Eva's parents were forced to sign a document stating that when the baby was born, it would have to be handed out over to the Gestapo to be murdered; it was the first time her mother had heard the word 'euthanasia'. However, in the event, her brother died of pneumonia at two months of age. And his death meant Eva's life – had Eva's mother subsequently arrived in Auschwitz-Birkenau with a baby, she would have been sent immediately to the gas chambers. But because she arrived there without a baby and although by this time she was again pregnant with Eva – but not visibly – she survived.
Eva's mother was in Auschwitz–Birkenau from 1st-10th October 1944. She had, incredibly, volunteered to follow her husband who was sent there. Tragically, she never saw him again and he never knew she was pregnant. She discovered after the war that he had been shot on 18th January 1945 – less than a week before the liberation by the Red Army.
As Anka's pregnancy was not visible and she was deemed fit for work, she was sent out of Auschwitz to work in an armaments factory in Freiberg, near Dresden. She was to remain there for the next six months – by now getting weaker while at the same time, becoming more visibly pregnant.
By the spring of 1945 the Germans were retreating and evacuating concentration and slave labour camps. Eva's mother and her fellow prisoners were forced onto a train: not cattle tracks this time but coal trucks – open to the skies and, obviously, filthy. They weren't given any food and scarcely any water during what was to become a 3-week nightmare journey around the Czech countryside. The Nazis had no idea what to do with their 'dying cargo'.
The train eventually arrived at Mauthausen concentration camp. Realising where she had arrived at the notorious camp, the shock sent Anka into labour and Eva was born on a cart, in the open, without any assistance, medical or any other kind. By this stage, Anka weighed about 5 stone (35 kg) – she had the appearance of a scarcely living pregnant skeleton. And Eva weighed about 3lbs/1.5 kg, which by today's standards requires neonatal intensive care. If the camp's gas chambers hadn't been blown up on 28th April 1945 and the Americans hadn't liberated Mauthausen just days after Eva's birth, neither mother or child would have survived.